Lunula Laser Fungal Nail Treatment
At the Sussex Foot Centre, we have recently invested in a patented Lunula Laser, so that we can continue to offer the very best and most innovative services in Podiatric care for our patients across Sussex, Surrey, Kent & Hampshire. We are one of only a few podiatrists in Sussex to provide this service. We understand that fungal nails can be both painful as well as deeply damaging to your confidence.
Our new machine has made a huge difference to the effectiveness of the treatments we provide. It has helped us to tackle onychomycosis (fungal nails) in a way that is pain free, risk free, and clinically and scientifically proven to be effective.
What is Toe Nail Fungus or Onychomycosis?
Onychomycosis is a fungal infection of the nail. It is the most common disease of the nails and in fact creates half of all nail abnormalities. This condition may affect toenails or fingernails, but toenail infections are particularly common. Indeed, it occurs within about 10% of the adult population. A Common symptoms of this fungal nail infection, is that the nail becomes thickened and discoloured. Fungus cases are reported to be either white, black, yellow, green, or all of the above. If left untreated, the infection will make the nail brittle, painful, unsightly. Being extremely contagious, it can spread from person to person and nail to nail very easily and because of this, it can be notoriously difficult to clear and manage.
Patients are amazed that the procedure is truly pain free and our photographic results and feedback from patients show a very high level of efficacy.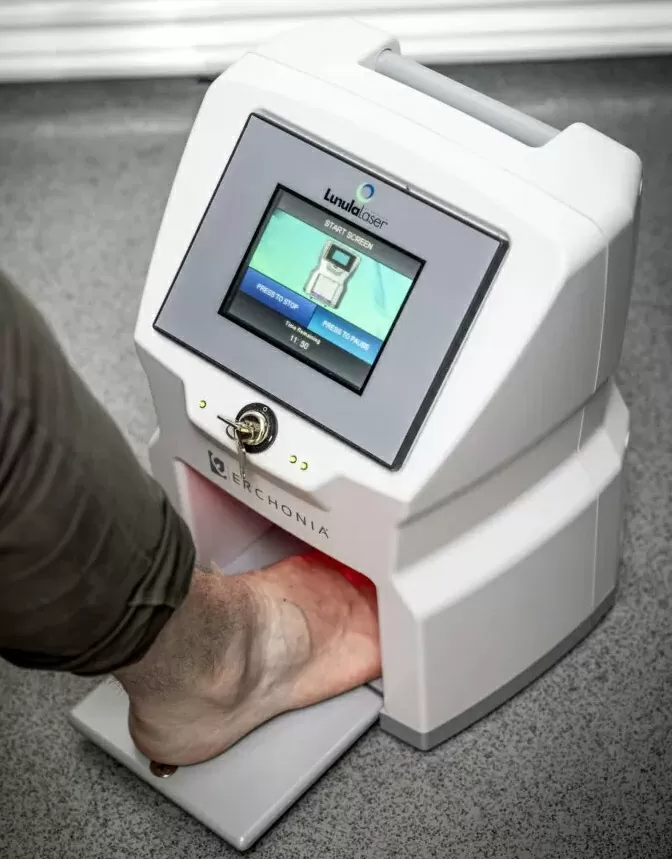 How Can Lunula Laser Treatment Cure Fungal Nails? 
The Lunula laser Treatment is an unattended, pain free series of procedures which uses a revolutionary low-level laser to treat onychomycosis. The treatment is 100% safe, and as well as killing the nail and foot fungus which is present, the laser also promotes the growth of of a healthy new nail, ultimately bringing hope and relief to longstanding sufferers of patients with painful, disfigured and unsightly fungal nails. In as little as little as four weekly 12 minute appointments, we can expect to see significant results, meaning you can regain your flip flop and bare feet freedom.
Unlike other hot lasers that claim to treat toenail fungus or onychomycosis, our Lunula laser is the only pain free, non-thermal laser that has no dangerous smoke plumes or vapours and requires no anaesthesia to perform. If you've tried other treatments for toenail fungus, such as sprays, lotions, oils or oral prescription medications with no lasting results, then the Lunula laser may very well be the superior option for you.
What will my Lunula Laser Treatment Plan Look Like?
The treatment plan will begin with an Initial Consultation where the practitioner will discuss your nail condition, your medical history and whatever impact your lifestyle may be having on your nail fungus. In this appointment, we will take photographs of your affected nails. You will also receive chiropody care, including a debridement of the fungal nails. Following this, all treatment options will be discussed and we can ascertain whether the Lunula Laser Treatment is the most appropriate course of action for you and your lifestyle. 
Scientifically Proven Efficacy
Assuming that we are going ahead with this treatment strategy, you will then be booked in for the first of your 12 minute session with the Lunula Laser, and you will return once per week for a period of 5 weeks as part of the Lunula Treatment Package. During your 5th treatment episode, your nails we will be cut and filed and we will again take photographs to assess what progress has been made in this time. Whilst some improvement may be visible in this time, it will, however, take several months for us to be able to see healthy nail growth in place of damaged fungal nails. Four weeks after this last Lunula Laser appointment, your nails will be reviewed either in clinic, if nail care is required, or by photograph, which can be sent in via email. It is noteworthy that nails take a minimum of 12 – 18 months to grow out in full.
To find out more about our Lunula Laser Treatment, please do get in touch with us at 01444453874, or info@sussexfootcentre.co.uk and a member of our team will be very happy to help.
What are the main symptoms of fungal nail infection?
There are many symptoms that can indicate a fungal nail infection, the most obvious ones including:
Discolouration (usually white or yellow)
Brittle and/or crumbly nails with rough, jagged edges
Unsightly, thickened nails
Distorted nail shape, e.g. curled up or down
Separation of nail from the nail bed
Pain at the site of the infection
Some fungal nail infections may also present as Athlete's Foot or ingrown toenails.
Your best course of action if you suspect a fungal nail infection is to book in with a qualified podiatrist for a professional assessment and recommendation for treatment. At the Sussex Foot Centre, we offer a wide range of effective treatment options including laser treatment for fungal nails.
What causes fungal nail infections?
Nail fungus is typically caused by exposure to one of several fungal organisms, the most common being dermophytes, although yeast and mould can also be the culprit. The fungus thrives in dark, moist conditions such as warm, sweaty socks or shoes and enters via a crack in the nail.
While fungal nail infections can happen at any age, the are more common in adults aged 60+, those suffering from diabetes or circulatory problems, or people with weak immune systems. Men are more likely than women to be affected.
Does nail fungus require treatment?
If the infection is mild, you may be able to manage the condition at home or you can ask your chemist to recommend topical over-the-counter creams and ointments. Ensure that your nails are kept short and file down any thickened areas. Don't use the same nail file or clippers on healthy and infected nails to avoid the infection from spreading, and don't share towels with other family members. Avoid walking barefoot in public areas such as locker rooms.
Wear socks made of wicking material that keeps the moisture away from the skin and change your socks frequently, and especially if your feet get sweaty or wet. Put antifungal foot powder inside clean socks every day to keep your feet dry. Ensure that your footwear has good supportive with a wide toe area, so your toes are not pressed together.
At the Sussex Footcare, we are one of very few podiatrists in Sussex who offer Lunula Laser fungal nail treatment, a pain-free, risk-free and clinically proven method to tackle nail fungus effectively. Contact us to find out more.
What do I need to do to prepare for nail laser treatment?
If you have opted for laser treatment for toenail fungus, your treatment plan will start with an initial consultation where we will take your medical history, discuss your nail condition in depth and take photographs of the affected toenail(s).
You will also receive preparatory chiropody care including a debridement of the fungal nails. This will reduce the thickness of the infected nail, enabling the laser light to penetrate as deep as possible to eliminate the infection. Please could we ask you to remove all nail varnish in preparation for your laser treatment.
How many treatments are required?
At the Sussex Foot Centre, our Lunula Laser Treatment Toenail Fungus Package consists of 5 laser sessions. Each session is 12 minutes per foot and sessions are generally spaced at once weekly intervals, with the fifth session normally scheduled a month to 6 weeks after your fourth. During your fifth treatment, your nails will again be cut and filed, and photographs will be taken to evaluate progress made over the five sessions.
The treatment is a pain-free series of procedures that uses a revolutionary low-level laser to treat nail fungus aka onychomycosis. It is incredibly effective at killing nail and foot fungus and is 100% safe to use. What's more, the laser also promotes the growth of a healthy new nail.
How long does it take to see improvements?
You should expect to see visible improvements in nail fungus over the 5-week treatment schedule, allowing you to feel more confident about the appearance of your feet. It will, however, take several months for new healthy nail to growth to replace the damaged fungal nail.
4 weeks after your final Lunula Laser treatment appointment, we will review your nails again – either in clinic or via photograph sent by email. Please be aware that it takes a minimum of 12-18 months for a nail to grow out in full.
Written by Jon Collins (MSc, BSc)
Jon Collins is a highly skilled podiatrist with over 10 years of clinical experience.
Having worked as a practitioner in the NHS and a variety of private practices, Jon has developed a wealth of knowledge in the study, diagnosis, and medical and surgical treatment of foot and ankle disorders. Over the years, Jon has refined his diagnostic examination techniques and capabilities and has invested in the most up-to-date ultrasound equipment to give clients the best possible treatment. 
Click here to find out more about the specialist team here at Sussex Foot Centre.
BOOK AN APPOINTMENT
Follow the form below to get through directly to one of our Podiatrists at the practice or call us on 01444 453874 to request an appointment. 
"*" indicates required fields
34 Sussex Road, Haywards Heath, Sussex RH16 4EA