Lunula Laser Fungal Nail Treatment
At the Sussex Foot Centre, we have recently invested in a patented Lunula Laser, so that we can continue to offer the very best and most innovative services in Podiatric care for our patients across Sussex, Surrey, Kent & Hampshire. We are one of only a few podiatrists in Sussex to provide this service. We understand that fungal nails can be both painful as well as deeply damaging to your confidence.
Our new machine has made a huge difference to the effectiveness of the treatments we provide. It has helped us to tackle onychomycosis (fungal nails) in a way that is pain free, risk free, and clinically and scientifically proven to be effective.
What is Toe Nail Fungus or Onychomycosis?
Onychomycosis is a fungal infection of the nail. It is the most common disease of the nails and in fact creates half of all nail abnormalities. This condition may affect toenails or fingernails, but toenail infections are particularly common. Indeed, it occurs within about 10% of the adult population. A Common symptoms of this fungal nail infection, is that the nail becomes thickened and discoloured. Fungus cases are reported to be either white, black, yellow, green, or all of the above. If left untreated, the infection will make the nail brittle, painful, unsightly. Being extremely contagious, it can spread from person to person and nail to nail very easily and because of this, it can be notoriously difficult to clear and manage.
Patients are amazed that the procedure is truly pain free and our photographic results and feedback from patients show a very high level of efficacy.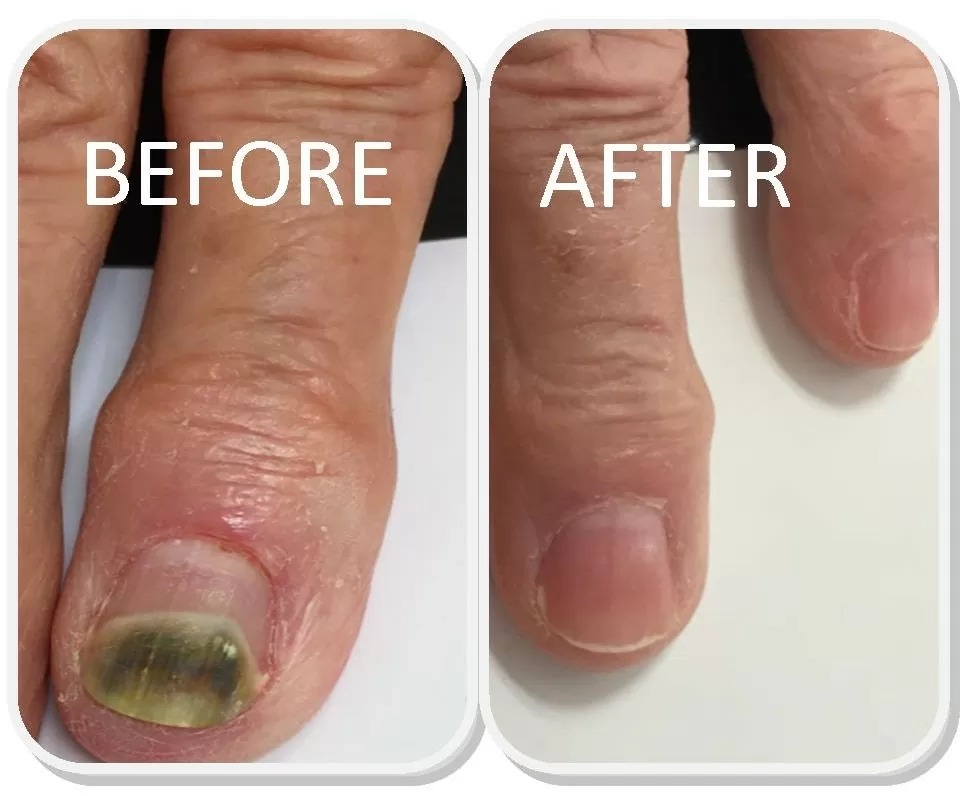 How Can Lunula Laser Treatment Cure Fungal Nails? 
The Lunula laser Treatment is an unattended, pain free series of procedures which uses a revolutionary low-level laser to treat onychomycosis. The treatment is 100% safe, and as well as killing the nail and foot fungus which is present, the laser also promotes the growth of of a healthy new nail, ultimately bringing hope and relief to longstanding sufferers of patients with painful, disfigured and unsightly fungal nails. In as little as little as four weekly 12 minute appointments, we can expect to see significant results, meaning you can regain your flip flop and bare feet freedom.
Unlike other hot lasers that claim to treat toenail fungus or onychomycosis, our Lunula laser is the only pain free, non-thermal laser that has no dangerous smoke plumes or vapours and requires no anaesthesia to perform. If you've tried other treatments for toenail fungus, such as sprays, lotions, oils or oral prescription medications with no lasting results, then the Lunula laser may very well be the superior option for you.
What will my Lunula Laser Treatment Plan Look Like?
The treatment plan will begin with an Initial Consultation where the practitioner will discuss your nail condition, your medical history and whatever impact your lifestyle may be having on your nail fungus. In this appointment, we will take photographs of your affected nails. You will also receive chiropody care, including a debridement of the fungal nails. Following this, all treatment options will be discussed and we can ascertain whether the Lunula Laser Treatment is the most appropriate course of action for you and your lifestyle. 
Scientifically Proven Efficacy
Assuming that we are going ahead with this treatment strategy, you will then be booked in for the first of your 12 minute session with the Lunula Laser, and you will return once per week for a period of 5 weeks as part of the Lunula Treatment Package. During your 5th treatment episode, your nails we will be cut and filed and we will again take photographs to assess what progress has been made in this time. Whilst some improvement may be visible in this time, it will, however, take several months for us to be able to see healthy nail growth in place of damaged fungal nails. Four weeks after this last Lunula Laser appointment, your nails will be reviewed either in clinic, if nail care is required, or by photograph, which can be sent in via email. It is noteworthy that nails take a minimum of 12 – 18 months to grow out in full.
To find out more about our Lunula Laser Treatment, please do get in touch with us at 01444453874, or info@sussexfootcentre.co.uk and a member of our team will be very happy to help.
BOOK AN APPOINTMENT
Follow the form below to get through directly to one of our Podiatrists at the practice or to request an appointment.
Or call — 01444 453874
34 Sussex Road, Haywards Heath, Sussex RH16 4EA