About us – Sussex Foot Centre is a  family-run chiropody and podiatry practice, which is dedicated to providing an exceptional standard of care and patient experience.
Owner, Jon Collins MSc Principles of Podiatric Surgery, Podiatric Sonographer, BSc (Hons) and Georgie Dackombe BSc (Hons) MChS HCPCreg, are specialists with many years of experience in the diagnosis and treatment of foot and ankle problems. Our professional podiatrists are members of the College of Podiatry. They offer a wide range of treatments, including routine foot care, minor surgery and biomechanical assessments. We are experienced, we are compassionate, and we always strive for the best outcomes for our patients.
Our mission is to get your feet and lower limbs in the best condition possible. We want you to be at and feel at your very best. We work to make you comfortable, pain-free and able to enjoy life to the full.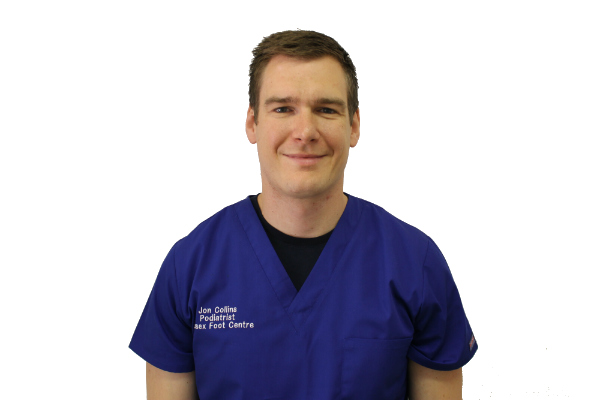 At the Sussex Foot Centre, we provide a comprehensive podiatry and chiropody service treating problems affecting the foot, ankle, knee and lower limb. We can treat complex foot problems, as well as offer routine foot care, nail surgery and diabetic foot care. We use state-of-the-art equipment, carry out gait analysis and offer a wide range of comfortable footwear and orthotics.
In the clinic, we offer a range of services with flexible appointment times to suit your needs. We have appointments available every day, except Sunday when we are closed. For our patient's convenience, our extended clinic opening hours include some evening and Saturday appointments. We are happy to arrange home visits or care home visits for those with mobility issues.
We treat a wide range of people, from children to the elderly. We also see a lot of runners, dancers and sports enthusiasts. Additionally, we give every patient the same respect, care and attention.
Our Experience and Reputation
We are extremely proud of our reputation, which we know has grown from the caring service we offer and from our exceptional experience in diagnosing problems and providing the correct treatment. Having established a regular patient base, we are delighted to receive so many referrals from other medical professionals in the area and through our valued regular clients.
Ultrasound
One of the things that set us apart from other podiatrists and chiropodists is the speed at which we can diagnose and treat problems. Our ultrasound puts us at the forefront of podiatric care and enables us to identify a wide range of soft tissue problems quickly.
Timing in receiving treatment can make all the difference to the outcome. With our state-of-the-art ultrasound, we can treat problems quickly and effectively, getting you on the right treatment path and out of pain in the least possible time. We are also able to offer guided cortisone injections with the use of ultrasound to ensure the treatment is 100 per cent targeted to exactly the right place.
Sports Massage
To complement our full range of podiatry services we also have our own in-house sports massage therapist. Sports Massage is ideal for releasing tension in the body's soft tissues and can help to prevent niggling injuries from turning into something more serious. Our massage treatments can increase joint mobility and flexibility, as well as reduce the risk of injury during exercise.
How Can We Help?
Follow the form below to get through directly to one of our Podiatrists at the practice or to request an appointment.
Or call — 01444 453874
"*" indicates required fields
34 Sussex Road, Haywards Heath, Sussex RH16 4EA