Cortisone Injection in Foot
If you are suffering from persistent heel pain, ankle pain, or nerve pain that hasn't responded to conservative care, then a steroid injection at the Sussex Foot Centre might be the treatment for you.
What are cortisone foot injections?
Corticosteroid / Cortisone injections (steroids) are drugs to treat pain, inflammation, certain types of arthritis and many other medical problems. They can be used in injectable form and are helpful in treating certain foot problems. If you have tried other conservative treatments with no success then it might be time to consider a steroid injection.
An example of a Patient suffering from severe foot pain who was helped by this treatment: Good morning Jon. You asked me to let you know how that "odd" pain across the toes in my left foot was and it is fine and no further problem. Also, the steroid injection in my right foot has helped enormously and would say almost pain-free which, after all these months, is just amazing! So much so, I am hoping to now go back to the ballroom and Latin American dancing classes….so all good! 
How quickly will the injection work?
This varies with individuals but most people report improvement in their symptoms within 24 to 48 hours.  It can however take a few days before any change is noticed, and a small proportion of patients gain little if any benefit from their use. Improvement can last for weeks or months and in some cases improvements last even years. There is a small proportion of patients who feel little or no benefit following a cortisone injection in the foot.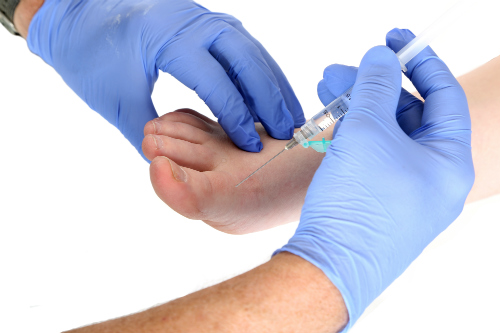 Everything you need to know about Cortisone Injections…
How does the cortisone treatment work?
Steroids (Methylprednisolone) are given via injection mixed with local anaesthetic (to make the injection more comfortable for you).  This will make the area numb for a few hours.  You will be reviewed 4 to 6 weeks later and the injection repeated if necessary, to a maximum of three doses per year.
How long will the effects last?
Improvement can last for weeks or months, and in some cases, improvement lasts for years.
Side effects
Side effects from the low doses used in injections are rare but can occur. The most common are:
• Steroid flare – pain at the injection site.  This happens in 10% of patients.  The pain can be quite severe but settles down in a day or two. Take over-the-counter painkillers if required, such as paracetamol.
• Facial flushing – this may occur 24 to 48 hours after the cortisone injection but will settle within a day or two.
• Fat wasting – a small amount of subcutaneous fat may be affected by the injection leaving an indentation at the injection site.
What types of foot injuries can be treated with steroid injections?
Types of foot Injuries that can be treated with steroid injections in the foot and ankle are:
• Heel Pain Including plantar fasciitis, policeman's heel
• Morton's Neuroma Nerve pain usually between the metatarsals
• Arthritis In the big toe, ankle joint or any other joint in the foot and ankle
• Tarsal Tunnel Syndrome Pain under the ankle bone, giving a feeling of pins and needles
BOOK AN APPOINTMENT
Follow the form below to get through directly to one of our Podiatrists at the practice or to request an appointment.
Or call — 01444 453874
"*" indicates required fields
34 Sussex Road, Haywards Heath, Sussex RH16 4EA