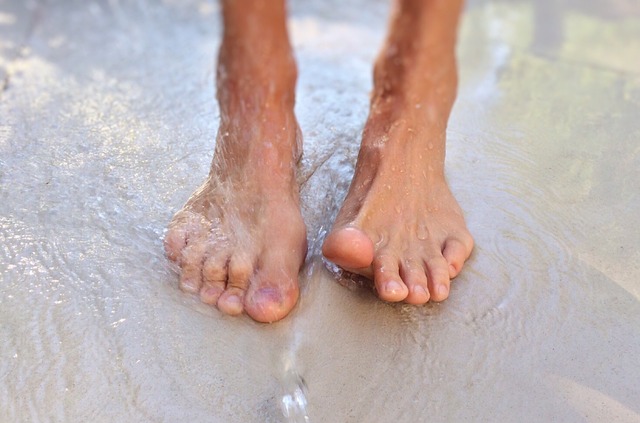 Specialist Foot Pain Treatment & Foot Care
The Sussex Foot Centre is a patient-centred Chiropody and Podiatry practice in Haywards Heath, offering assessments, diagnostics and a wide range of treatments for the feet and lower limbs. As well as traditional footcare for corns, callus, fungal problems and verrucae, we also offer nail surgery, biomechanical assessments and gait analysis and are able to treat many complex foot problems and conditions.
We have extensive experience in treating foot problems in people with chronic conditions such as diabetes, rheumatoid arthritis, peripheral vascular disease, muscular dystrophy, cerebral palsy and other health problems.
Diagnostic Ultrasound Specialists
We have invested in a diagnostic ultrasound machine to ensure you get a speedy diagnosis and can get treatment for painful foot problems straight away. It's always our aim to get people better fast using the latest technologies and foot care techniques.
Specialist Orthotics
We also offer a specialist orthotics service to improve foot function and alleviate foot pain. Our custom-made insoles can help many painful conditions, such as plantar fasciitis, shin splints, high or fallen arches, bunions, achilles tendonitis, knee problems and lower back pain.
Experienced Team
Our highly trained team are able to carry out general and more complex foot treatments, including minor surgeries and can administer cortisone injections for persistent problems in the foot and ankle that haven't responded to prescribed care.
All of our services are carried out in our relaxing consulting rooms in Haywards Heath, West Sussex by fully trained and highly experienced chiropodists and podiatrists. We offer disabled access but are happy to arrange home visits for those with mobility issues.
Chiropody
We pride ourselves on providing the highest quality foot care for our patients. Our expert chiropodists specialise in the diagnosis and treatment of foot ailments and provide ongoing palliative care and advice, for conditions such as corns, callus, thickened nails, cracked heels, athletes foot, verrucae, and much more. Chiropody treatment at the Sussex Foot Centre can also be carried out if you are unable to bend down to care for your toe nails, if you have trouble seeing, or if you have other medical conditions.
Podiatry
Podiatry and chiropody frequently cross over. While chiropody focuses on routine foot care, podiatry also includes Biomechanics: the assessment, diagnosis and treatment of a wide range of health problems affecting the feet and lower limbs. Our Podiatrists are also trained to carry out nail surgery and can administer cortisone injections for conditions unresponsive to conservative care, such as heel pain, plantar fasciitis, heel spur, Morton's neuroma, and many other health problems causing pain in the feet.
Diagnostic Ultrasound
We believe in getting people better quickly. That's why we've invested in a state-of-the-art diagnostic ultrasound machine to give you a real-time diagnosis enabling us to see exactly what is going on and get started with treatment straight away. Ultrasound is one of the safest types of imaging tools and has no contraindications. There is minimal patient preparation and it's painless. Sometimes we are even able to see things in ultrasound that cannot be seen in clinical analysis or even x-ray. We offer the best and quickest diagnostic tools to ensure we can get you pain-free in the shortest time possible.
Nail Surgery
When in-growing toenails are left untreated they can cause infection and severe pain. At the Sussex Foot Centre our specialist nail surgeons can carry out nail surgery to swiftly deal with this painful problem. We use a local anaesthetic to ensure you won't feel a thing. Our nail surgery to remove all or part of an in-growing toenail doesn't involve cutting any skin and we treat the nail to prevent regrowth. We will help you with post-surgery dressings until you feel confident to do this on your own. Most of our nail surgery patients are back at work the next day!
Diabetic Foot Care
Having diabetes means you are at much greater risk of developing foot problems. Raised blood glucose can damage to the sensation in the feet and circulation is also affected. As a result, injuries to the feet in diabetic patients are much more common and problematic. Regular foot care is highly advisable for those with diabetes as untreated problems can lead to ulcers and infections. Our specialist diabetes foot check ensures your feet stay in tip top condition. Our experts will also give you advice on how best to look after your feet between appointments.
Footwear
At the Sussex Foot Centre we understand how important footwear is to maintaining healthy feet. We offer a wide range of comfort footwear from leading brands, including Padders and DB (EasyB). We stock width fittings from sizes EE to 8E, to ensure you get shoes that fit you perfectly. Comfort is an essential feature of our footwear so you can be sure the shoes will feel great on your feet. We want you to be able to walk wherever you need to in comfort and style.
How Can We Help?
Follow the form below to get through directly to one of our Podiatrists at the practice or to request an appointment.
Or call — 01444 453874
34 Sussex Road, Haywards Heath, Sussex RH16 4EA